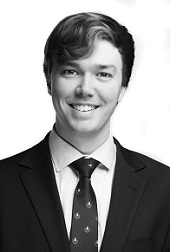 Kelvin completed a summer term and his articles at Evans Philp LLP before joining the firm as an associate in 2019. He is developing a broad practice in insurance law.
Kelvin was born and raised in Dundas, Ontario, and was excited to return home after earning his Juris Doctor from Western University in 2018. While at Western, Kelvin volunteered as a counsellor for the Peer Support Program and worked in the Community Legal Services legal aid clinic. Prior to attending Western, Kelvin obtained an Honours B. Arts Sc., graduating summa cum laude from McMaster University's Arts and Science program.
Kelvin is excited to be serving as a member of the board of directors for Hamilton Bike Share Inc..
Click here to contact Kelvin's assistant, Maggie Wick.