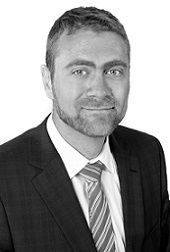 Andrew joined Evans, Philp LLP as an associate in 2014. He practices insurance law with a particular emphasis on accident benefits.
Andrew obtained his J.D. from the University of Toronto, along with an M.A. in economics. Prior to attending the University of Toronto, Andrew graduated from Trent University with a dual honours B.Sc. in physics and economics.
Before joining Evans, Philp, Andrew articled and practiced civil litigation at a full-service national firm in Toronto. He was called to the bar in 2011.
Andrew is a member of the Hamilton Law Association, the Hamilton Lawyers Club, the Hamilton Medical-Legal Society and the Canadian Defence Lawyers.
Click here to contact Andrew's assistant, Colton Janssen.